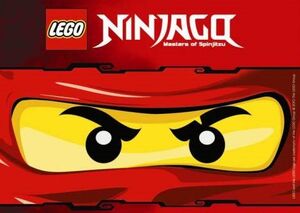 Welcome to the LEGO Ninjago Wiki
Edit
Hi! And welcome to the Ninjago Wikipedia! Come here to learn the anicent ways of spinjitsu, do some edits, and most important of all: Train!
Spinjitsu
Edit
Long before time had a name, Ninjago was created by the first Spinjitzu Master sensei wu using the four Golden Weapons of Spinjitzu; the Scythe of Quakes, the Nunchucks of Lightning, the Shurikens of Ice and the Sword of Fire. Weapons so powerful, no one but the first master could possess them all at once. For decades, Ninjago was balanced with good and evil, and peace was maintained under the watchful eyes of the master. When he passed away, his two sons swore to protect the weapons, but the eldest was consumed by darkness and wanted to possess the weapons for his own nefarious purposes. A battle between brothers broke out, and the eldest was struck down into the Underworld. Peace returned, and the younger brother hid the four weapons, but knowing his brothers relentless ambition, he placed a guardian that would protect the weapons. And, in fear of his own demise, he created a map for a poor blacksmith, which was hidden with care. The older brother is Lord Garmadon, the younger brother Sensei Wu, and the blacksmith the father of the main character, Kai. Now Garmadon has taken command of the undead legions of the Underworld and is searching the land of Ninjago for the four Golden Weapons to exact his revenge on his brother, Wu. Now Sensei has gathered four brave ninja; Kai, Master of Fire; Cole, Master of Earth; Zane, Master of Ice; and Jay, Master of Lightning. Together, they must train to defeat their skeletal foes and find the golden weapons, and eventually defeat Lord Garmadon.
Latest activity
Edit
Ad blocker interference detected!
Wikia is a free-to-use site that makes money from advertising. We have a modified experience for viewers using ad blockers

Wikia is not accessible if you've made further modifications. Remove the custom ad blocker rule(s) and the page will load as expected.